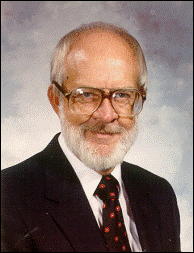 Leonard Lacy (Buck) Williams, 72, (R-93) of Richardson, Texas, died April 19, 2000, of a massive stroke in a Dallas Hospital.
Williams, Regional Director for GIRA Region 6, was a retired professor of electronics, physics, mathematics, and computer science. Born on May 18, 1927 in Malta, Texas, Williams graduated from Denton High School in 1944 (football, Boy Scouts, NTSU lifeguard).  He graduated from Gallups Island Radio School and was a Radio Officer for the Merchant Marine 1944-46. B.S. NTSU, 1952; M.S. SMU 1972; electronics engineer Chance Vaught Aircraft, and Collins Radio. Taught science courses Thomas Jefferson HS, Highland Park HS, Trinity University, San Antonio, DeVry Tech, Dallas, Colegio Karl C Parrish, Colombia, SA, Lakehill Prep.  Author of "Friendly Physics".  Elected "Favorite Teacher" numerous times. Active in Jaycees, Scouts, YMCA, Indian Guides, and Democratic Mens Club. His interests included: politics, photography, puzzles, gardening, camping, and canoeing.  Lacy was a quick-witted, quiet, unassuming, unselfish, deeply-caring, individualist who was admired and loved.  Survivors include the love of his life, wife Wilma, marreid 52 years, daughter Connie, sons Don and Keith and families including five grandchildren.
"So long sailor!"
Dick Andren, R-16, passed away on March 28, 2000.  His health declined gradually over the past few years. He recovered quite well from a stroke last September, but after a fall in January, which fractured three vertebrae, his condition deteriorated rapidly.
The Andren home address is:
12600 W. Marion Lane #802E
Minnetonka, MN 55305.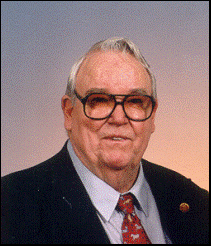 John H. Kesler, 77, (R-19) of LaGrange, Georgia died April 18, 2000 at the LaGrange, Georgia Hospice.
Jack was born December 14, 1922, in Clarksville, GA, the son of the late John David and Lola Mae Nash Kesler. He was a veteran of WWII (Army and Merchant Marine) and had lived in LaGrange for 50 years. Kesler was a member of St. Peter's Catholic Church and Knights of Columbus and a administrator of the Loyal Order of the Moose for 35 years. He was also a member of the LaGrange VFW Post, LaGrange Elks Club, and the Gallups Island Radio Association.
Survivors include his wife of 56 years, Catherine Lucile (Kit) Twickler Kesler, daughter, Nancy Jane Kesler of Jacksonville, FL, two sisters; Vy Allen of LaGrange, and Joann Gillis of Helote, TX, and brother Pat Kesler of Daleville, AL and a number of nieces and nephews.
He was preceded in death by two sons, John Holmes Kesler, Jr. and Lawrence David Kesler.
In lieu of flowers, memorials may be made to the Kesler Memorial Scholarship Fund, St Peter's Catholic Church, 200 Lafayette Parkway, LaGrange, Georgia, 30241.  Funeral services were at St. Peter's Catholic Church with Father Larry Niese officiating and interment at Shadowlawn Cemetery.
Jack, who had already served with the U.S. Army in Panama, was platoon leader of my platoon,   R-19, at Gallups Island. I was able visit with Jack, Kit, and Nancy in Branson last autumn, the first time I'd seen him since March 1943.
While recovering from knee replacement surgery on March 31, Jack was diagnosed with lung cancer, which had already spread to his spine. With no improvement after nine radiation treatments, they were discontinued, and on April 17, he was moved to Hospice LaGrange, where he died peacefully in his sleep less than 24 hours later.  So long, good leader. -- JJ