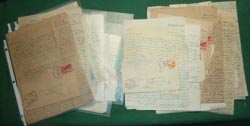 This is a large lot of 27 WW2-era letters home - 26 letters from a member of the 819th Engineers Aviation Battalion to his sister in Florida, and 1...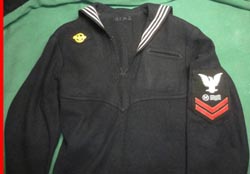 This is a nice, clean example of a WW2-era US Navy Jumper for a Mailman. This rating is considered scarce, as it was only used from 1944-1948.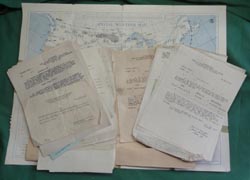 This is an interesting USAAF paperwork grouping in a Manila Folder titled "Robert N. Winter - 201 File". File is for Robert Nicholas Winter (Officer...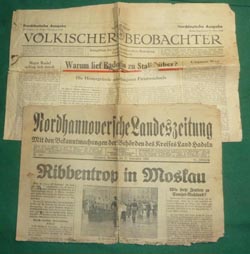 First Newspaper is the North Hannover Country Times for September 27, 1939 - Ribbentrop in Moscow / Warsaw Surrenders to General Blastowitz. Second...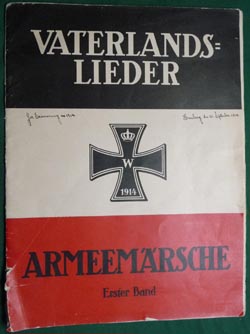 This is a large sheet music sized Piano-Song Book " Vaterlands-Lieder - Armeemarsche ", 9 1/2" x 12 1/2", 36 Pages. Very nice patriotic cover,...

Gray leather Frog measures 2 3/4" x 9 1/2". Leather is stiff but not cracked or damaged, and can be softened to fit the Bayonet Scabbard.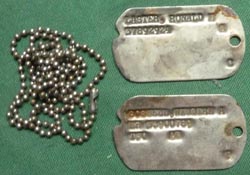 This is two Dog Tags plus a short length of Chain. One Tag is for a solider in the Enlisted Reserve (ER) with an inoculation date of 1950. The other...
This is a stainless Dog Tag for a member of the US Navy. No inoculation date for some reason; otherwise, it is in the typical WW2-era format.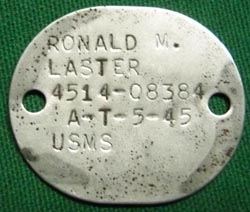 This is nice Dog Tag for a Merchant Seaman in the US Maritime Service. Stainless steel Tag shows inoculation shots received in May of 1945.