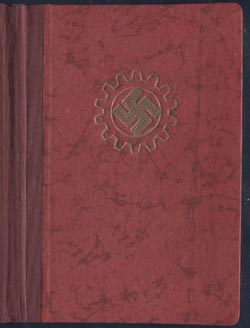 SOLD - This is a nice example of a WW2 German Mitgliedsbuch (Membership Book) issued in 1942, details unresearched. It is in overall excellent...
$27.50
$25.00

Save: 9% off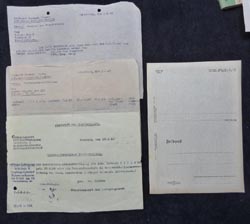 This is a neat grouping of three original WW2 German documents, all named to one man, plus a German Feldpost Form Letter. Military Medical...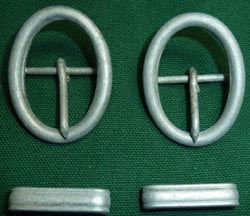 This is a neat set of alloy fittings for the hanger of a WW2 German Red Cross or Social Welfare Officer's Dagger. You can see where the pawls were...
This is the 'Bevo' embroidered version of the Edelweiss rating patch worn by Heer Mountain Troops. Unissued example.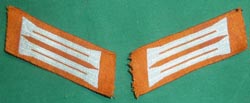 This is a nice, perfectly-matching set of uniform-removed Collar Tabs for a German Gendarmerie Police enlisted/NCO. This is the Bevo-style in...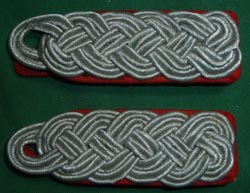 This is a nice, perfectly matching pair of slip-on Shoulder Boards for a full Colonel of Artillery. You can clearly see where the rank Pips (two on...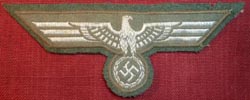 This is a very nice German Heer Breast Eagle in 'Flatwire' as is often seen on the M35 Waffenrocck " dress Uniform. Uniform-removed, shows light wear...

This is a nice, matching pair of Collar Litzen for a Heer Enlisted/NCO in the Panzer Tank Corps. They have the bottle green backing as used on early...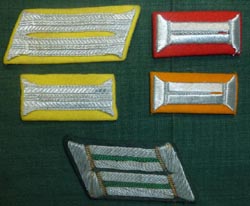 This is a nice group of single Collar and Cuff Tabs for Heer Parade and Field Uniforms. The Parade Uniform Collar and Cuff Tabs are in mint unissued...