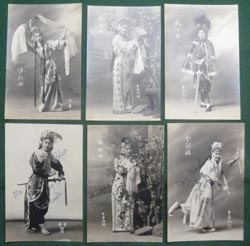 SOLD - This is a neat grouping of 23 Japanese/Asian Postcards from the estate of a US Army Intelligence Lt. Colonel (see last two photos). I got...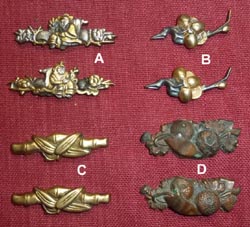 4 Pairs Japanese Samurai Sword Menuki - These are older copies pulled off of original Menuki . Set "D" came off of an original Japanese Sword, and...
$85.00
$60.00

Save: 29% off

This is the Merit Medal, 1st Class in Silver, for the Japanese Seafarer Relief Association 海員掖済会. The group was established in Meiji 14...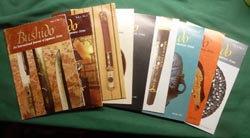 All 9 Issues of Bob Benson's incredible " Bushido " Magazine. Published from 1979-1981, Softbound, 7"x10", 48 pages each, discussing various...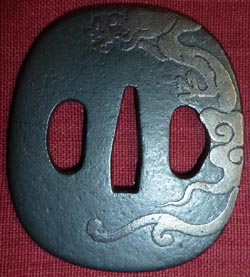 This is a nice iron Tsuba with a raised dragon. The dragon has crosshatched scales in gold overlay. Shows very nice lamination along the rim. It...
$165.00
$135.00

Save: 18% off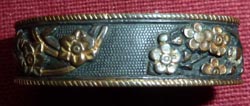 This is a soft metal Fuchi designed with Plum and Cherry Blossoms, with a Rope design along the top and bottom. Outside measurements are 39mm x 24 mm...
$95.00
$70.00

Save: 26% off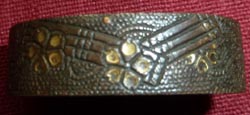 NEW PRICE! - This is a brass Fuchi with Cherry Blossoms and rough Nanako . Outside measurements are 38mm x 24mm x 11 mm tall.
$65.00
$50.00

Save: 23% off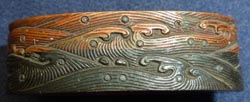 This is a Fuchi that came off of a truly fabulous Katana . It is a nice rolling Waves design, with silver dots for the Sea Spray. A band of Shakudo...
$195.00
$150.00

Save: 23% off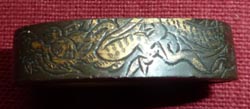 This is a Shakudo Fuchi with a Dragon design. Outside measurements are 38mm x 22mm x 9 mm tall.
$95.00
$60.00

Save: 37% off