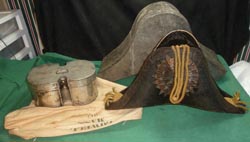 This is a nice and very scarce Model 1841 US Naval Officer's Dress Chapeau for a Junior Officer. The only other example I could find is in the USS...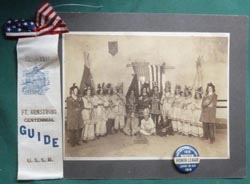 This is a very scarce lot for an active participant in the Fort Armstrong Centennial Celebration June 18-24, 1916. White silk ribbon measures 7 1/2"...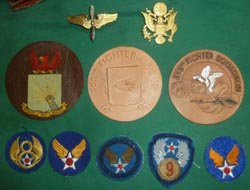 This is a nice grouping, worthy of research, named to Fighter Pilot Harrison T. Price. Includes: 3 leather Squadron Patches - USAAF Training Center,...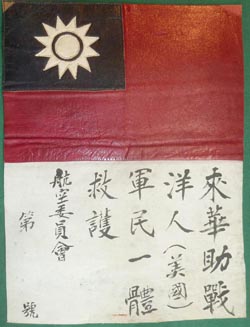 This is a beautiful CBI Army Air Force "Flying Tigers" Blood Chit as worn on the flying jacket. 8" x 11 13/16" multi-piece leather Chit is hand-inked...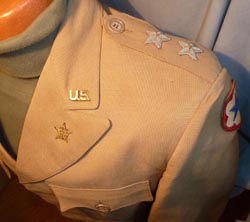 This is a tropical-weight US Army Officer's Ike Jacket for a Major General on the General Staff of the in the Army Service Force. Made by Palm Beach...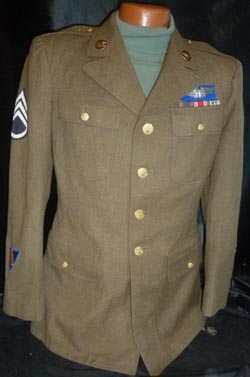 This is an 8th USAAF Combat Crew Uniform in overall great condition, with nice pinback Aerial Gunner Wings in Sterling. There are no laundry marks or...
This is grouping of two Visor Hats named to B-17 Pilot James B. Lundahl. First is a nice 'crushed' Officer's Visor Hat by Marshal Field Company,...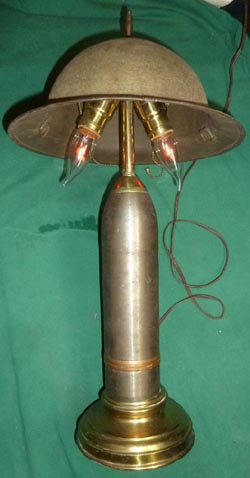 This is a nice patriotic WW1 "Trench Art" Lamp, made with a 75 mm Artillery Shell and a US Helmet. Artillery Shell is engraved on the body " Victory...

This is a very scarce poster from the original 'America First' movement back in late 1930's, when Americans were leery of getting entangled in yet...