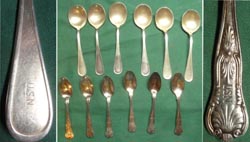 This is a grouping of two Patterns of "U.S.N." marked Silverware. There are six Round Bowl Soup Spoons 7" long overall, and six Coffee/Spoons 6" long.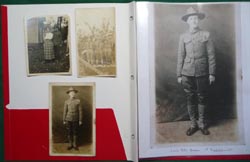 SOLD - This is a small grouping from the family of a WW1 Aero Mechanic. Picture Post Card of Hansen with Army Air Service Collar disk clearly visible...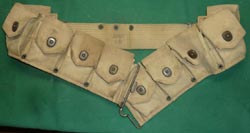 SOLD - This is an M-1910 Infantry Cartridge Belt marked in 3 places "Long 5-18". The pockets have cardboard Bandolier Boxes for the 8-Round Garand...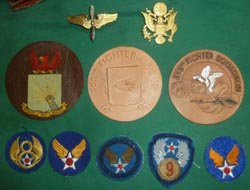 This is a nice grouping, worthy of research, named to Fighter Pilot Harrison T. Price. Includes: 3 leather Squadron Patches - USAAF Training Center,...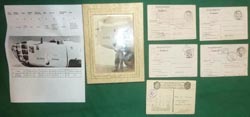 SOLD - This is a nice document lot for Lt. (later, Lt. Colonel) Dan Story, Pilot of the B-24 Blonde Bomber (and later, the Blonde Bomber II), 98th...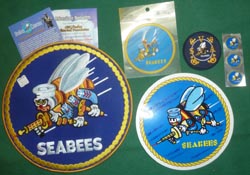 This is a nice grouping from the Seabee Museum Gift Shop. 10 1/4" Embroidered Jacket Patch 3" Embroidered Blazer Patch for Seabee Veterans of America...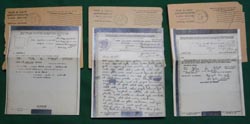 SOLD - This is a nice set of three V-Mail Letters home from a Soldier in Company A, 10 Mountain Infantry Division, Anti-Tank Battalion. I believe...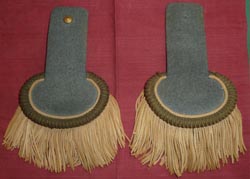 This is a beautiful matching set of Epaulets for a Soldier in the Vermont State Militia. Very well-made with hand-stitching, etc. These are identical...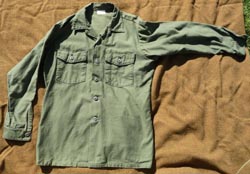 This is a nice OD Cotton Fatigue Shirt, clean with no fading, and no wear except for a little bit at the buttonholes. contract dated 1973. Size is...