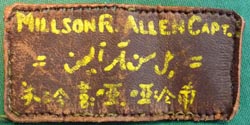 Nice leather Name Tag, 1 5.8" x 3 1/2", with Pilot's Name in English, Urdu and Mandarin. This style was very popular with Hump Pilots.

This is a very scarce poster from the original 'America First' movement back in late 1930's, when Americans were leery of getting entangled in yet...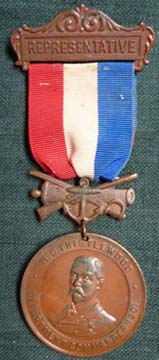 This is a medal worn by a veteran who attended the Department of Illinois State Encampment in Rock Island in 1902. The Medal with ribbon measures 1...
Civil War Battle Flags of the Union Army and Order of Battle - C. McKeever and Robert Younger. Hardcover, 10 1/2" x 15", 176 pages. Facsimile reprint...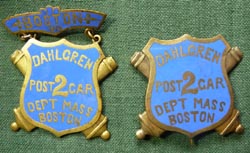 This is a matching set of Badges worn by a Civil War veteran who was a member of GAR "Dahlgren" Post #2, Boston Massachusetts. Badge #1 - Measures...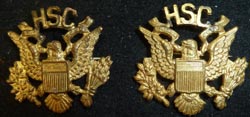 This is a nice pair of matching insignia for the stand-up collar of a 1920's pre-ROTC Military School uniform for the California High School Cadets...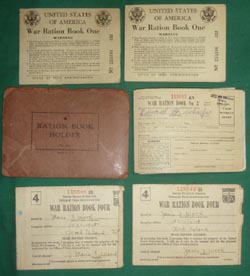 Collection includes a Ration Book Holder, 2 sets of "War Ration Book One", "War Ration Book No. 3", and 2 sets of "War ration Book Four".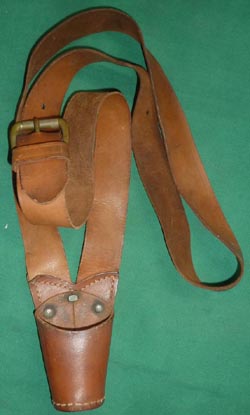 This is an unmarked leather Flag Holder with cross-strap for war by a Color Guard Flag-Bearer. Likely a 30's-40's American legion item.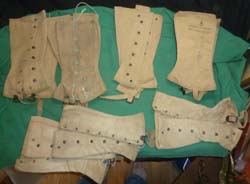 Five sets of leggings (plus one single) - all from the footlocker of a USN V-5 Aviation Cadet.