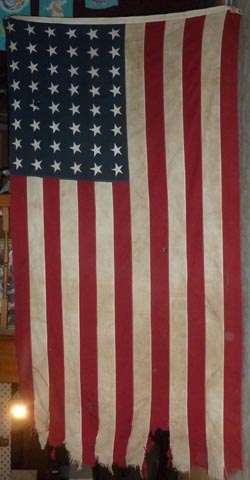 This Flag came from an estate along with a Japanese Pilot's Flotation Flag, and I strongly believe it to be a WW2-era piece with period wear. Wool...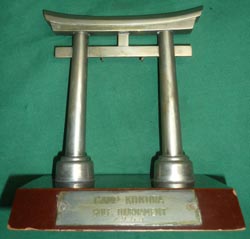 This is a nice Korean War era Golf Trophy, in the form of a traditional Japanese Torii gate (the symbol found on the US Army Ryukyus Command Patch),...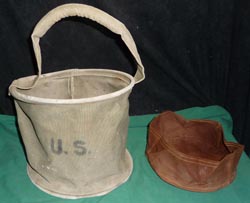 This is a nice Canvas Bucket made by American Canvas Co, in 1944. Shows fading and use, but very clean overall, without any of the greasy dirt or old...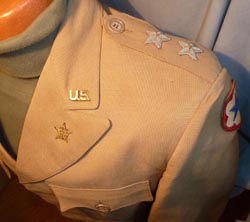 This is a tropical-weight US Army Officer's Ike Jacket for a Major General on the General Staff of the in the Army Service Force. Made by Palm Beach...

I was lucky enough to come into a factory sealed, 1945 dated, stone mint condition roll of black and gold braid for the Army Officer Garrison Hat....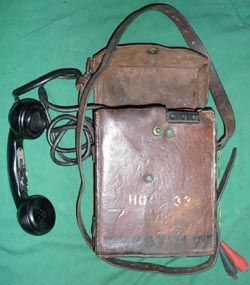 Nice example of an early US Army Field Telephone. Unit markings stenciled on the leather Case. The leather is well-oiled and supple - I didn't have...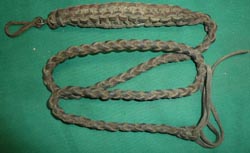 This is a 38" long hand-tied leather Pistol Lanyard. It came in a footlocker grouping that included WW2 and early post-WW2 (Occupied Germany) US Army...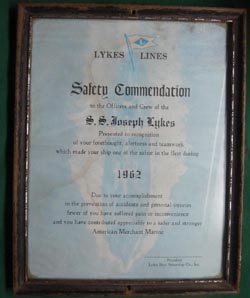 Here is a lot of miscellaneous US Merchant Marine Documents: Lykes Lines Safety Commendation to the Officers and Crew of the S.S. Joseph Lykes - 1962...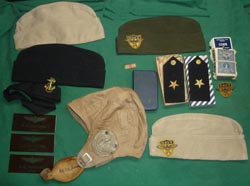 SOLD - This is an interesting grouping for Robert G. Hartung, Navy V-5 Program Aviation Cadet who trained at the USN Fighter Pilot School in Liberty,...