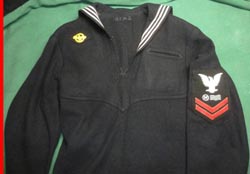 This is a nice, clean example of a WW2-era US Navy Jumper for a Mailman. This rating is considered scarce, as it was only used from 1944-1948.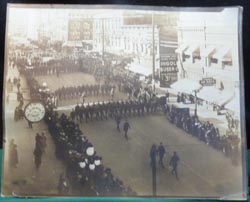 This is a nice, original 8x10 photo of Troops marching in a main street parade in Cedar Rapids, Iowa. The State Historical Society of Iowa has other...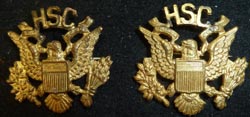 This is a nice pair of matching insignia for the stand-up collar of a 1920's pre-ROTC Military School uniform for the California High School Cadets...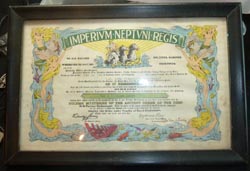 This is a neat document for a soldier who crossed the equator while on board the WW2 US Army Troop Transport Ship "Shawnee". 8 1/2" x 12 1/2" in its...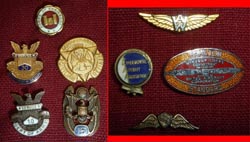 This is a nice grouping of tiny Lapel Pins from the estate of a retired Rock Island Arsenal Employee: Corps of Engineers Pin; Department of the Army...

Nice Cross-Strap for Sam Browne Belt. Unmarked, but came with other leather accessories dated 1922.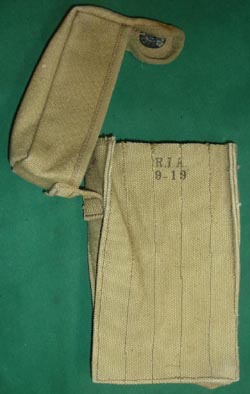 This is an original US WW1-era 'Pederson' Belt Pouch, designed to hold five 40-round Magazines of .30 caliber pistol rounds. The Pedersen Device...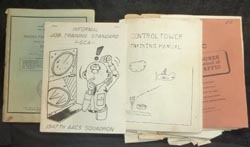 This is an interesting document grouping for an Air Traffic Controller stationed in at Air Force Bases in Wiesbaden, Germany and Chambley Air Base in...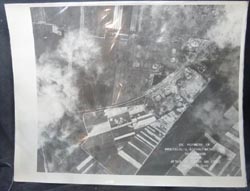 This is an extra-large actual photograph taken by a recon plane after an 8th Army Air Forces bombing mission of an Oil Refinery in Ostermoor, Germany...