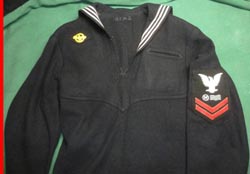 This is a nice, clean example of a WW2-era US Navy Jumper for a Mailman. This rating is considered scarce, as it was only used from 1944-1948.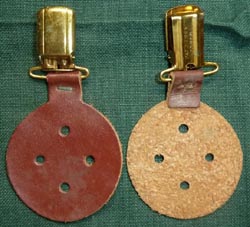 I still have a few of these unissued badge holders left. The leather is 1 13/16" in diameter and the holes are spaced 13/16" apart. The two patent...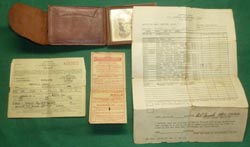 SOLD - This is a leather Wallet with various documents - photo of a Soldier with his family, Negative of two Soldiers with Family, Newspaper Photo...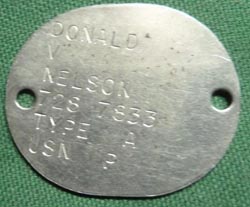 This is a stainless Dog Tag for a member of the US Navy. No inoculation date for some reason; otherwise, it is in the typical WW2-era format.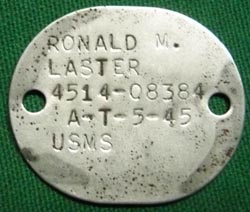 This is nice Dog Tag for a Merchant Seaman in the US Maritime Service. Stainless steel Tag shows inoculation shots received in May of 1945.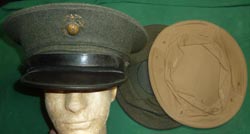 This is a nice WW2-era Marine Corps Visor Hat - in gray wool with two extra Covers. Hat is not marked, but one cover is labeled '7 1/8'.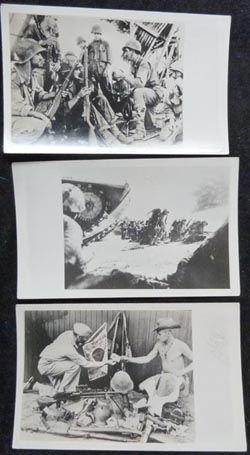 This is a neat set of three actual photo postcards of WW2 US Marines in action. While I am sure these are official Marine Corps photos that were...

Here is an M4 Carbine Bayonet, with the early Scabbard (later versions had the Wire Clip for hanging off of a Web Belt). The leather Lanyard is 100%...
This is grouping of two Visor Hats named to B-17 Pilot James B. Lundahl. First is a nice 'crushed' Officer's Visor Hat by Marshal Field Company,...