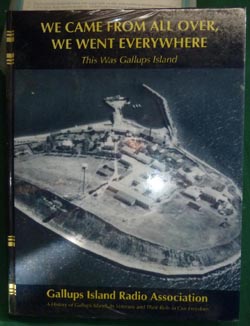 " We Came From All Over, We Went Everywhere: This Was Gallups Island - Gallups Island Radio Association - A History of Gallups Island, Its Veterans...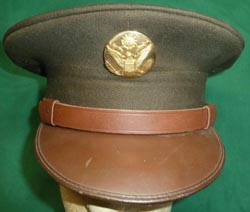 This is a US Army NCO/Enlisted Visor Hat in pretty crisp condition. Marked inside " On to Victory - Feldman Cap Co. ". Also has a haberdashery stamp...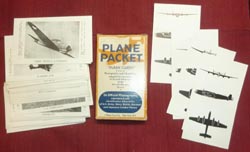 This is a deck of REPRINTED 3"x5" Aircraft Spotter Flash Cards, originally issued in 1942. " Plane Packet - Flash cards - A series of Photographs and...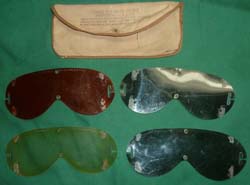 This is a Lens Kit with the Carrying Bag, marked " Lenses B-8 Flying Goggle - Property U.S.A.A.F. ". Come with four Lenses marked " Polaroid ... for...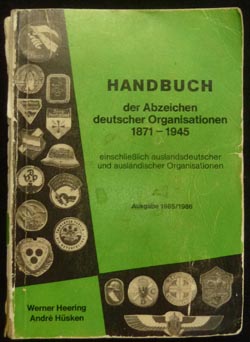 HANDBUCH DER ABZEICHEN DEUTSCHER ORGANISATIONEN 1871-1945. Einschliesslich Auslandsdeutscher und Auslandischer Organisationen - Ausgabe 1985/1986 -...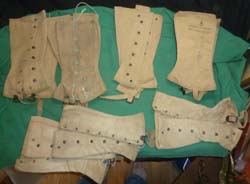 Five sets of leggings (plus one single) - all from the footlocker of a USN V-5 Aviation Cadet.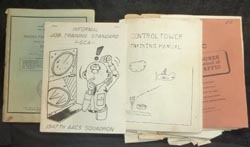 This is an interesting document grouping for an Air Traffic Controller stationed in at Air Force Bases in Wiesbaden, Germany and Chambley Air Base in...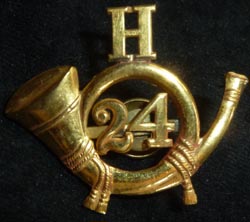 Lifetime Guarantee of Authenticity on this Badge! This is a nice Indian Wars Hat Badge for a member of H Company, 24th Infantry Regiment. This size...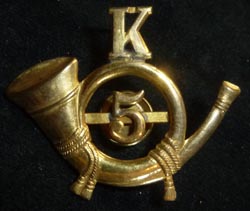 2 1/8" Bugle Badge was authorized for wear in 1872 - the design changed to crossed Rifles in 1875, although "Trumpeters" were still allowed to wear...