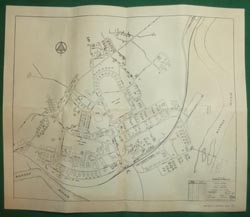 This is a 10 1/2" x 12 1/2" Map " Ft. Riley, Kansas - Post Proper - Building Site Plan " dated 1947. From the estate of a US Army Captain.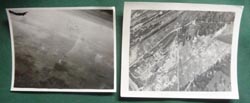 These are two nice, original WW2-era photos taken during a Bombing Raid on Munich, Germany. 3 5/8" x 4 5/8" photo is captioned on the back " Flack...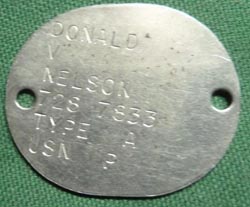 This is a stainless Dog Tag for a member of the US Navy. No inoculation date for some reason; otherwise, it is in the typical WW2-era format.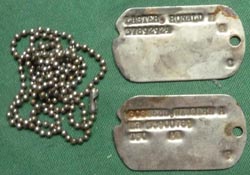 This is two Dog Tags plus a short length of Chain. One Tag is for a solider in the Enlisted Reserve (ER) with an inoculation date of 1950. The other...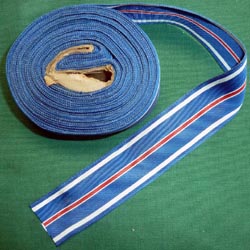 This is original Distinguished Flying Cross Cross (USAAF/USAF DFC) Ribbon stock. Tests as 100% rayon which is correct for WW2, although the roll was...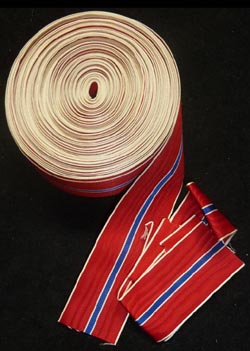 This is original Bronze Star Ribbon stock from a WW2 manufacturer. Price is $1.00 an inch with a minimum order of 6 inches.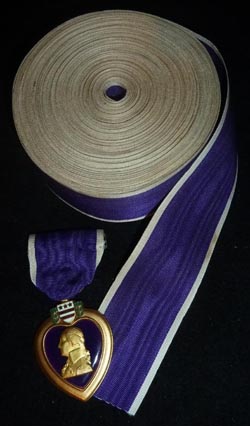 This is original Purple Heart Ribbon stock from a WW2 manufacturer. There is a small "coffee" stain to the white on one edge, about every 5 inches....

I was lucky enough to come into a 1942 dated mint condition roll of maroon braid for the Army Nurse Corps Garrison Hat, as worn with the dress white...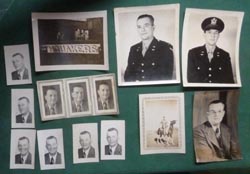 This is a lot of Photos and Documents from the estate of a veteran of the 12th Bomb Group "Earthquakers". Photo of 12th Bombardment Group Officer's...