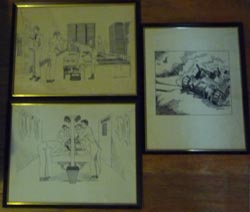 This is a set of three original ink artwork drawings done in 1941 - looks to be for the Army Training Base newspaper of graduation yearbook. Artwork...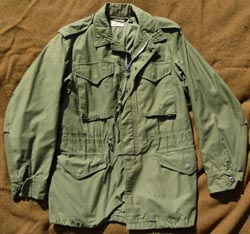 Nice overall condition with good coloring. Traces of a 34th Infantry Division Patch removed from the left shoulder. Note there are two small grease...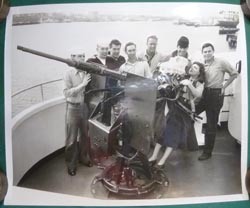 This is a nice 8x10 photo of a young Starlet manning an Anti-aircraft Gun while the Navy Gun Crew looks on. Marked "Goettsche" on the back and one...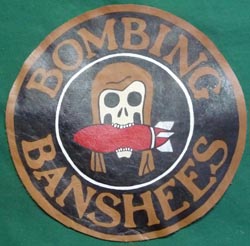 This is a large, 8" hand-painted leather Squadron Patch for Marine Scout Bombing Squadron 244 "Bombing Banshees" - a dive bomber squadron in the...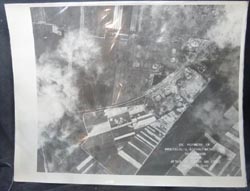 This is an extra-large actual photograph taken by a recon plane after an 8th Army Air Forces bombing mission of an Oil Refinery in Ostermoor, Germany...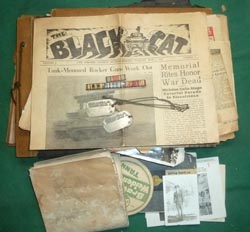 SOLD - This is a large photo and document lot for Tech Corporal Walter Erwin, serving at Battalion Headquarters of the 16th Armored Infantry...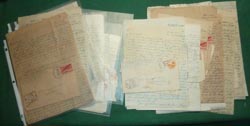 This is a large lot of 27 WW2-era letters home - 26 letters from a member of the 819th Engineers Aviation Battalion to his sister in Florida, and 1...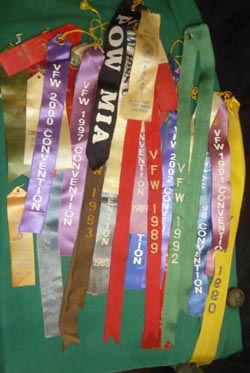 This is a large lot of Ribbons and Streamers from a defunct VFW Post. I counted 44 Ribbons but may have miscounted by one or two.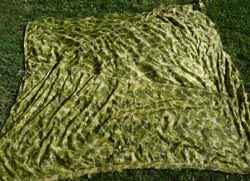 This is a large swatch of Nylon Camo Parachute Fabric. While Nylon chutes were issued late in 1945, and are often offered as 'WW2', they are almost...