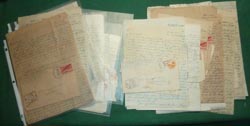 This is a large lot of 27 WW2-era letters home - 26 letters from a member of the 819th Engineers Aviation Battalion to his sister in Florida, and 1...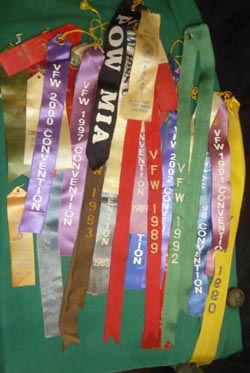 This is a large lot of Ribbons and Streamers from a defunct VFW Post. I counted 44 Ribbons but may have miscounted by one or two.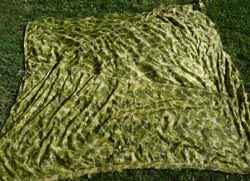 This is a large swatch of Nylon Camo Parachute Fabric. While Nylon chutes were issued late in 1945, and are often offered as 'WW2', they are almost...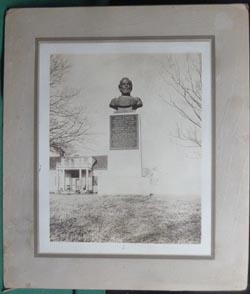 This is a large vintage Photo - image size 8" x 10", mounted on a 11 3/4" x 13 3/4" matte. It depicts the bust of Civil War Brigadier General John E....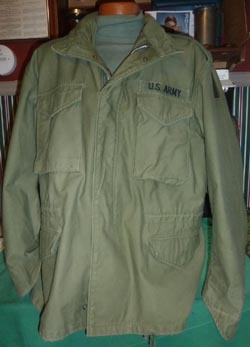 This is a Vietnam War-era M-65 Field Jacket by Alpha Industries, contract-dated 1970. in overall excellent condition. Period-applied subdued 1st Army...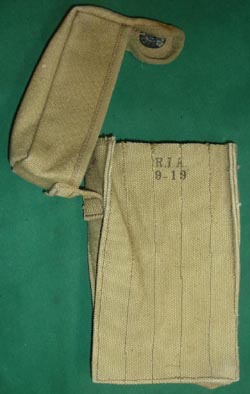 This is an original US WW1-era 'Pederson' Belt Pouch, designed to hold five 40-round Magazines of .30 caliber pistol rounds. The Pedersen Device...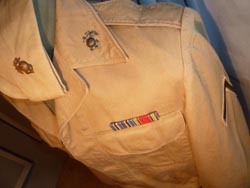 USMC Vandergriff Jacket with Overseas Cap. Shows some light fading and wear to the high points from laundering. Top Button is missing, but the way...

This is a removable Model 1902 Hat Band which was worn with the parade dress uniform, but removed when wearing the regular dress Uniform. The red...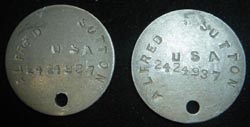 This is a nice pair of matching aluminum dog tags for Alfred Sutton.