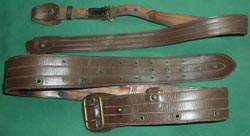 This is a private purchase officer's Sam Browne Belt with Cross Strap, named to Paul Cushman, a career Captain in the Army Air Corps, and ultimately...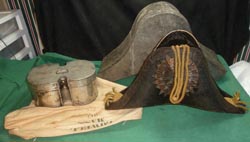 This is a nice and very scarce Model 1841 US Naval Officer's Dress Chapeau for a Junior Officer. The only other example I could find is in the USS...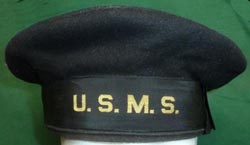 This is a rather scarce 'Donald Duck' Hat for the US Merchant Marine. It was authorized for a short time during WW2. Shows overall use and age but no...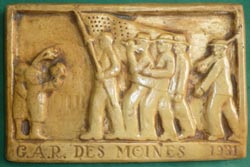 This is a nice plaster Placard in outstanding condition, made for the 65th National Encampment of the Grand Army of the Republic, held in Des Moines,...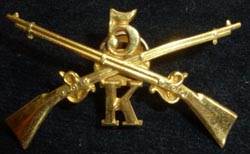 This is a nice Hat Badge for a member of K Company, 5th Infantry Regiment. 2 3/8" Crossed Rifles Badge - screwback version for the early Campaign Hat.
This is a nice set of four faux bullion gold Star 1" insignia as worn by US Naval Admirals in the Spanish American War. They are missing the...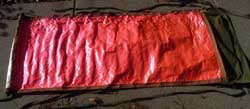 SOLD - This a large "Friend or Foe" Orange and White Identification Panel for strapping on top of an armored vehicle. Approx. 30" x 72". Complete...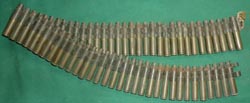 This is a "Battlefield Pickup" belt of linked M1 .30 Caliber spent cartridges, all dated 1943. The use of linked ammo in WW2 was limited to...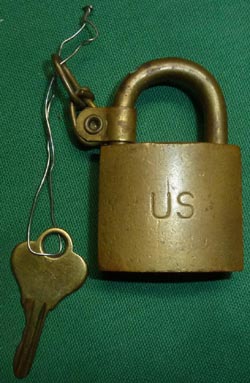 This is an old brass Padlock marked " U.S. " and " Americall ". Note theta the Key that came with it does not unlock it. This Padlock came with a WW1...